Ok, seriously.
So I like many of you have the double duty of operating on and off the rig. To make this transition faster, I was looking at the few options that work best. So far I'm torn between these two options and wanted to address the reasoning.
The first being the Ronford-Baker Quick Release [#80003] which would allow the camera to connect to the sleds dovetail or the fluid/gear heads.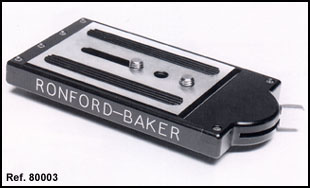 Pros:
Camera stays in the exact location when retuning to the steadicam.
Very stable mounting system proven for years.
Fastest method.
Any Rigging on the Dovetail stays on the rig (motors, rods, MDR, etc.)
Cons:
Adds height to CG
Any Rigging on the Dovetail stays on the rig (motors, rods, MDR, etc.)
The second, would be the Cat-Griller make by Cam-Tec/Baer-Bel. This one allows the dovetail to stay attached to the camera and over to a head.
Pros:
Entire configuration goes from steadi to sticks or dolly. (if you build off your rods on the dovetail)
Noting to add into your configuration.
Cons:
If you build your motors and MDR on the Dovetail and wanted to get into a standard studio mode, your still having to disassemble your config.
Could slip if not properly tightened.
SOLUTION: Versatile top/bottom
Possibly use both. Add the Ronford-Baker above the dovetail, this allows for a quick way to remove the camera without any of your rigging on the dovetail. Then have a Cat-Griller for retaining your wireless configuration that is built onto the dovetail.